Latest manager commentary
An update from investment manager, Alan Gauld
30 September 2020
An update from our investment manager, Alan Gauld – 30 September 2020
June valuations bounced back strongly from the coronavirus-related declines seen at March. The portfolio value increased 11.1% on a constant currency basis during the quarter (13.7% including FX movements). This was largely driven by resilient performance in underlying portfolio company earnings and the rebound in public market comparables. Net assets are now £728.6m, which is back above the level at the end of 2019, prior to the COVID-19 outbreak in Europe (£714.2m).
It has also been pleasing to see the recent exit activity in the trust's portfolio, despite relatively slow M&A activity in the market more generally. We have seen a number of sale agreements publically announced over the past weeks and months, including portfolio companies such as Roompot (in PAI VI), Rovensa (Bridgepoint Europe V), Surfaces (Astorg VI) and Colisee (IK VIII). Distributions have so far proven to be more resilient than we expected at the outset of the COVID-19 outbreak.
During the period we have taken the opportunity to increase the size of SLPET's revolving credit facility from £100m to £200m. We welcome State Street Bank International as a new lender to the trust, alongside SLPET's long-term lenders Citi and Société Générale. This additional capacity will provide SLPET with further firepower for new investments, as well as greater flexibility to manage the trust's capital during this period of uncertainty and market volatility.
We have been in regular communication with the private equity managers of SLPET's investments throughout the year and more intensively since the onset of the COVID-19 crisis. Despite the stock market rebound during the summer, we continue to approach the next 6-12 months with caution. Our base case assumption is that there will be another spike in COVID-19 cases as we move into autumn and winter in Europe. In this context, we continue to take comfort in the:
Quality of the private equity managers that we have selected, all of whom successfully weathered the global financial crisis;

Diversification of the investment portfolio, with over 400 companies spread across different countries, sectors and vintages;

Available capital in the underlying funds, which will allow our private equity managers to support underlying companies through the crisis;

Greater flexibility of debt structures in underlying companies compared to levels prior to the global financial crisis in 2008, with higher equity as a percentage of enterprise value and "covenant-lite" debt packages more commonplace;

Level of liquid resources and the recently increased revolving credit facility available to address SLPET's funding requirements in a range of different stressed scenarios.
Discrete performance (%)
| | | | | | |
| --- | --- | --- | --- | --- | --- |
| Year ending | 31/07/20 | 31/07/19 | 31/07/18 | 31/07/17 | 31/07/16 |
| Share price | (11.8) | 11.9 | 8.9 | 42.0 | 12.1 |
| NAV | 0.9 | 15.7 | 8.4 | 17.7 | 27.1 |
| FTSE All-Share Index | 17.8 | 1.3 | 9.2 | 14.9 | 3.8 |
Past performance is not a guide to future results.
Appendix: COVID-19 Impact - Frequently Asked Questions
What is the likely impact of COVID-19 on the underlying portfolio?
SLPET consists of over 400 private companies, largely within the European mid-market. At 31 March 2020, only 8 companies equated to more than 1% of Portfolio NAV (Action, TeamViewer, Mademoiselle Desserts, Handicare, CID Lines, Colisee, Froneri and R1 RCM).
We have conducted a detailed analysis of the top 100 companies by value (equating to 58.3% of Portfolio NAV at March 2020). Assessment of the companies is based on guidance from the private equity managers in addition to analysis conducted by Aberdeen Standard Investments:
| | | | | |
| --- | --- | --- | --- | --- |
| Category | % of Portfolio NAV | Limited impact | Moderate impact | High impact |
| Top 10 companies | 14.4% | 90% | 10% | 0% |
| Top 50 companies | 39.1% | 64% | 32% | 4% |
| Top 100 companies | 58.3% | 53% | 38% | 9% |
Limited impact – minimal short-term negative impact, neutral impact or even improving business trends / tailwinds;
Moderate impact – some temporary trading/profitability impact in 2020 and possibly into 2021, however the investment thesis remains and the business is not expected to have covenant or liquidity issues;
High impact – business disrupted materially and will likely face covenant or liquidity issues in 2020.
The findings from the analysis are reassuring and illustrate why we have confidence that the portfolio should successfully weather the COVID-19 crisis. 91 of the top 100 companies are expected to see only a limited or a moderate / temporary impact (which equates to c. 54% of SLPET Portfolio NAV). None of the top 10 companies by value are expected to see high or permanent impact from the crisis.
Our high-level portfolio breakdown by sector is outlined below, which illustrates the diversified nature of the SLPET portfolio. In addition, it shows that c. 48% of SLPET Portfolio NAV is in sectors that are generally stable or subject to long-term growth trends (Technology, Healthcare and Consumer Staples).
That said, we are also seeing resilient performance and notable success stories in companies within more cyclical sectors such as Industrials and Consumer Discretionary, especially where there is an essential product, service offering and/or a strong online sales component. Some examples within our top 20 companies by value include CID Lines (agricultural hygiene solutions), Benvic (PVC compounds), Photobox (online photograph printing) and Dr Martens (footwear brand with a strong online offering). Therefore we believe that a simple sector appraisal does not reflect the relative strength of the portfolio during this period.
Sector

% Portfolio NAV

Core sub-sectors

Largest companies by value (1)

Industrials

19%

Manufacturing

Industrial B2B Services

Specialty Chemicals

Testing

CID Lines (Hygiene solutions, 1.1%)

Norican (Metal services, <1.0%)

Benvic (PVC compounds, <1.0%)

Trioplast (Polyethylene film, <1.0%)

Healthcare

18%

Medical Technology

Healthcare B2B Services

Orthopaedics

Elderly Care

Ophthalmology

Handicare (Mobility services, 1.2%)

Colisee (Care homes, 1.1%)

R1 RCM (Hospital revenue management, 1.0%)

Information Technology

17%

TeamViewer (Remote desktop software, 2.0%)

Vizrt (Media software, <1.0%)

Informatica (Enterprise data integration, <1.0%)

Consumer Discretionary

14%

Retailers (online and offline)

Dr Martin (Footwear brand, <1.0%)

Big Bus Tours (Bus tours, <1.0%)

Consumer Staples

13%

Action (Retailer, 3.6%)

Mademoiselle Dessert (Dessert producer, 1.2%)

Froneri (Frozen food, 1.0%)

Financials

10%

Trustly (Payment services, <1.0%)

RL360 (Life assurance, <1.0%)

Other

9%

Materials

Energy

Telecommunications

Utilities

Verastar (Provisioning marketplace, <1.0%)
Notes: Business description and % of SLPET portfolio value in brackets, Aberdeen Standard Investments, 31 March 2020
Geographies
The following illustration sets out the geographic location of underlying companies at 31 March 2020. It should be noted that this is where the companies are headquartered and most are pan-European or global businesses.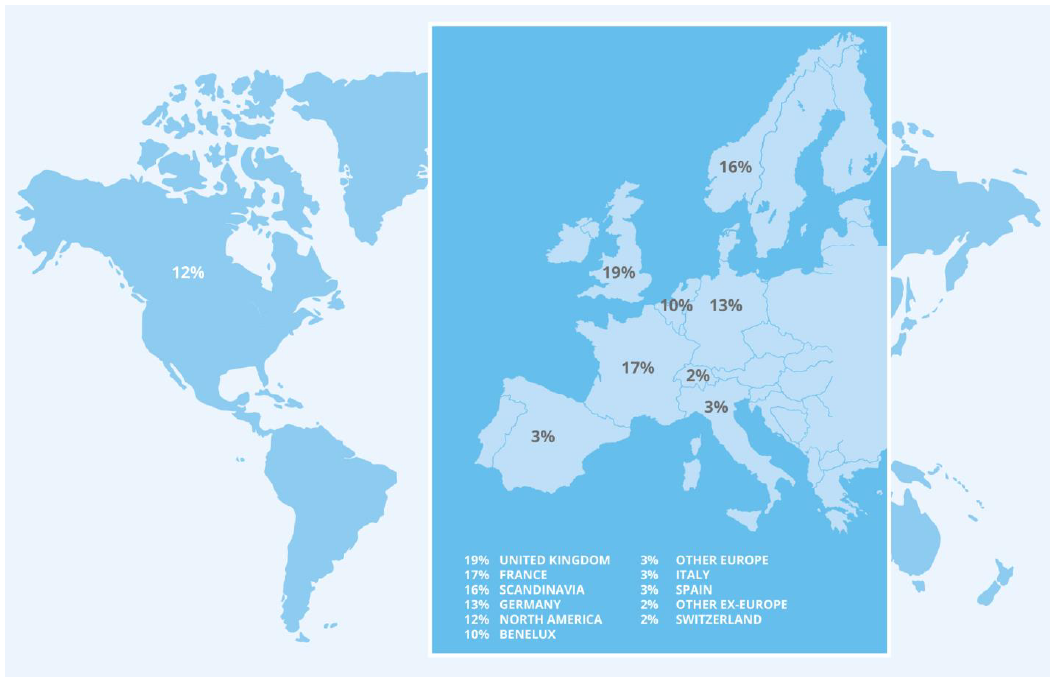 Notes: Aberdeen Standard Investments, 31 March 2020
The Company's underlying portfolio remains largely positioned to North Western Europe. SLPET is well diversified by region across North Western Europe, with the UK and France the highest exposure at 19% and 17%, respectively. Exposure to Southern European countries is relatively low with Spain and Italy each accounting for 3% of the portfolio.
2. What is current leverage across the underlying portfolio?
Given the size of the Company's portfolio, we calculate the leverage ratio (Net Debt / EBITDA) on the top 50 companies. At March 2020 the median leverage ratio in the portfolio was 4.9x, slightly above the prior period (4.6x at December 2019). Whilst leverage can appear relatively high in some companies (>5x EBITDA), optically high multiples often relate to highly cash generative businesses. This leverage ratio is in line with the private equity market for similar sized deals and vintages.
3. Can you provide details on the debt covenants of underlying businesses and what happens if covenants are breached?
Both the size of the SLPET portfolio and confidentiality agreements around some of the debt arrangements makes it difficult to publicly report on this in detail. However, "covenant-lite" structures have become commonplace in private equity in recent times. Furthermore, equity as a percentage of enterprise value is high compared to levels prior to the global financial crisis in 2008. These factors are expected to provide managers with a greater level of capital structure resilience and flexibility through an economic downturn. We view this as one of the industry's key lessons from the global financial crisis.
When a breach is expected to occur, private equity managers tend to be proactive in establishing a dialogue with lenders and attempting to find mutually agreeable solution. This can involve the private equity manager agreeing to put in additional equity in order to reset covenants and provide the company with greater breathing room. We do assume that greater levels of follow-on equity will be called by the Company's private equity managers in the coming 6-12 months to cure potential covenant breaches or short-term liquidity issues.
4. Has the trust got the resources to meet cash calls?
Yes. At 31 August 2020, the Company had cash and cash equivalents of £42.3m. In addition, it is due £15.0m of deferred consideration during the year from investments sold in 2019. The Company has an undrawn £200m syndicated revolving credit facility, provided by Citi, Societe Generale and State Street Bank International that expires in December 2024.
SLPET actively runs an overcommitment strategy and has done so since its inception in 2001, including through the global financial crisis. At 31 August 2020, the Company had total outstanding commitments of £451.2m. The Manager believes that around £66.3 million of the Company's outstanding commitments are unlikely to be drawn.
We feel that c. £257.3m of resources covering c. £384.9m of net outstanding commitments is prudent, given that the majority of cash calls from private equity funds are typically spread over 3-5 years. We expect to see reduced levels of drawdowns over the short-term due to the relative lack of new investment activity in the private equity market right now.
5. SLPET used to hold a small number of listed trust positions to utilise excess cash - do you still hold any of these positions?
No. The Company fully sold out of its listed trust portfolio in November 2019. The only listed company positions that SLPET holds now are via the underlying private equity funds, where private equity managers have listed a company as a means to exit its position. Typically these indirectly held listed positions equate to <5% of SLPET's NAV in aggregate.
6. Have you stress tested the portfolio?
Yes. We maintain a cashflow model for the Company and we recently refreshed our assumptions around our base, upside and downside scenarios. This exercise has incorporated our experience of what happened at the Company during the global financial crisis. At a high level, we have assumed the following stressed factors in order to be prudent in our forecasting:
Portfolio NAV declines materially over the next 12 months;
Distributions largely cease over the next 12 months due to the lack of exit activity in the portfolio before recovering slowly; and
Cash calls continue for the next 12 months at a slightly lower rate than prior year. This assumes that the need for follow-on equity in existing companies largely offsets the lack of new deal activity and that existing amounts on underlying fund credit facilities are drawn in full.
In all stressed scenarios the Company has sufficient liquidity to service its commitments. In addition, the revolving credit facility has a maximum LTV of 30% and under all scenarios the Company has comfortable headroom on this covenant.
7. What is the likely impact of COVID-19 on valuations and NAV?
Private equity valuations are undertaken on a quarterly basis by the private equity managers in the Company's portfolio. The effects of COVID-19 were initially incorporated in the underlying March 2020 accounts prepared by the private equity managers. In that quarter the value of the portfolio fell 12.5% on a constant currency basis (-8.4% including FX). However in the latest quarter to June 2020, the portfolio value increased by 11.1% in constant currency (+13.7% including FX).
We expect there to be volatility in the coming quarters until a COVID-19 vaccine becomes widely available. However, it is worth noting that the European private equity market has not been strongly correlated with European public indices in the past. Many private equity managers use long-term market and transaction comparables when valuing their portfolio, both in an upward and downward market cycle.
8. Will the Trust be able to take advantage of distressed market conditions?
Yes. We forecast that the Company will have resources available to deploy into secondary investments ("secondaries"), i.e. buying existing fund commitments from other investors. Secondary opportunities tend to become more attractive in periods of market dislocation, since there are typically more motivated or distressed sellers of fund positions. However, we expect that secondary opportunities will not arise until towards the end of 2020 and into 2021, as potential sellers assess their own position and wait until at least the June 2020 reports are published. We have a long-term track record in secondaries and a team of 9 investment professionals dedicated to this area.
In addition to secondaries, we expect to selectively commit to private equity funds on a primary basis and direct co-investments. Our experience tells us that backing blue-chip private equity managers during periods of market turbulence often generates the strongest long-term investment returns in terms of vintage.
9. Does the Manager and the Board have appropriate business continuity arrangements?
Following the introduction of the UK Government's measures to reduce the spread of COVID-19, the vast majority of Standard Life Aberdeen's UK staff have been working from home since Tuesday 24 March and will continue to do so until further notice. The same applies to colleagues in other territories. Only a very small number of colleagues, who are defined as 'key workers' by the Financial Conduct Authority, are required to perform their roles from one of our offices. In these instances, we are supporting them to ensure they do not have to use public transport.
The Manager remains in close contact with the Company's Board via email, telephone and video conference. Board meetings have been held between the Board and the Manager as scheduled in 2020 via video conference. We would anticipate that future Board meetings will be conducted in such a manner until the situation around COVID-19 improves and the UK Government's measures are relaxed.